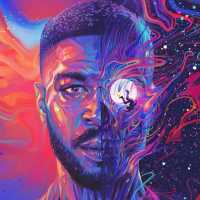 Playing:
Kid Cudi - The Pale Moonlight
[Verse 1]
Hear me out, give no fucks
Gettin' busy out the cut (Huh, huh), nigga, what?
And we do it to 'em, it's a video, sing a song
Shy nigga, but I think she pretty (Ah), so it's on, baby (Yeah)
Call to the lost, we deep, deep (Huh)
Had it all twisted, dead wrong (Yeah)
How do I find what I can't see?
Lord, I was born to be strong (Hey)
Yes, yes, before I stress, I gotta get that feeling
This is just a sweet interlude, na-na

[Pre-Chorus]
Amen, and the dices throw, they come in winning (Yeah)
What's this hatin'? (Yeah) Got no time, my boy (Yeah)
Nah, man, no one could've saved me
Look around to see this shit made me (Huh!)

[Chorus]
They think thеy know me, I think not
Hey, see me, I control thе plot (Mmm)
Healing but I'm living with some things, shit'll never stop
Yeah, caught in the moonlight
In the mirror, I used to hate what I see (Mmm)
Healing but I'm dealing with some things, shit'll never stop

[Verse 2]
Just another Monday, burning indica with my bros
See them lines they rollin', smokin' mid, not me, kid (Yeah)
Never trip, I'll burn that clip then run it back, call playback
Haters crumble, I'm they enemy, crazy fucker, no, don't envy, get that, ooh
I'm the only nigga standin', no, no, this ain't Henny
In the days with the tars and fire, ooh, I'll survive while many do
And now we found new ground
Phony like the camera 'round, bitches wanna cuff me, wow
And I'm feelin' whole, who would've thought for me?
See, nobody knows, still this hell on me (Yeah)
Catch me dippin' through drown, mind racing, red, red ribbon (Yeah, yeah)
She won't count me out, zoomin' while I count my blessings (Ooh)
[Pre-Chorus]
But something's off, I can feel it (Yeah)
My angel's gone (Shh), and I'm fuckin' loaded
Now I'm mad, no one could've saved me (Mmm)
I look around and see this shit made me (Yeah)
[Chorus]
They think they know me, I think not
Hey, see me, I control the plot (Mmm)
Healing but I'm living with some things, shit'll never stop
Yeah, caught in the moonlight
In the mirror, I used to hate what I see (Mmm)
Healing but I'm dealing with some things, shit'll never stop
[Outro]
Yeah, yeah
Mmm, mmm
Nah-nah-nah-nah-nah-nah-nah
Yeah, yeah, mmm
Mmm, mmm
Nah-nah-nah-nah, nah-nah-nah
Ka-la-la-la, la-la-la-la
Ka-la-la-la, ka-la-la-la