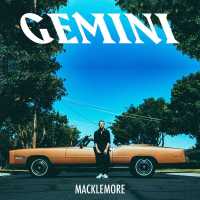 Playing:
Macklemore - Zara Ft. Abir
[Verse 1: Macklemore]
I know you're troubled, girl
I seen you on Tumblr
February, dressing like a summer girl
Mini skirt on, no underwear (Whoo!)
I wanna take you shopping
Blow a bag of Prada
She say "Those clothes expensive"
So we end up at Zara
Late night, hit the city
And we go out to Target
Like why we go to Target?
This electric wheelchair's poppin'
You read bell hooks and Cornell West
You make me quesadillas when I'm stressed
And be like, "Boy, you better clean up the mess
And take out the trash before you come back"
Stay in, amen, don't fall asleep 'til the AM
Wake up in the morning and I'm prayin'
Sunlight made its way in, gave me angels
And I hold 'em, paint a mural so golden (alright)
And my girl, she sweet as hell
But we'll have a world star moment
Like "I'll fuck this bitch up" (whoa)
Yes you will, my darling (aha)
Type of girl fight for the family (she will)
And jump in if there's a problem (progress)
But not today, the ocean waves
I can't complain, I hold her waist
My only ace until we're old and gray
See, that's my baby

[Chorus: Abir]
Wave after wave, yeah, we're catching the vibe, yeah
Feeling alive, yeah
Ten out of ten, I know you down to ride, yeah
Always by my side, yeah
My baby, know I know
Had to hold you down for sure
You the only one, you the only one, yeah
You the only one, you the only one in my life
You the only one, you the only one, yeah
You the only one, you the only one in my life
[Verse 2: Macklemore]
And if you feel some type of way, then just say that (say that)
I'm on my way to make it back, talking ASAP (ASAP)
And we can do all types of things in this Maybach (Maybach)
Kick off your shoes, relax your feet, while I play that (play what?)
That 90's R&B (alright)
Yeah, House Party 3 (ok)
Come spend the night with me (let's get it)
And bring your toiletries
You got your girls with you
I brought my boys with me
Playing that Shai Adina Howard, and that Jodeci (Jodeci)
Do you want a back rub, do you want a massage?
On my birthday, it's my birthday
Do you think we can menage? Sike
El Dorado inside, all suede
Let's go half on some offspring
Girl you flyer than an osprey
We ain't doing a damn thing all day
[Chorus: Abir]
Wave after wave, yeah, we're catching the vibe, yeah
Feeling alive, yeah
Ten out of ten, I know you down to ride, yeah
Always by my side, yeah
My baby, know I know
Had to hold you down for sure
You the only one, you the only one, yeah
You the only one, you the only one in my life
You the only one, you the only one, yeah
You the only one, you the only one in my life