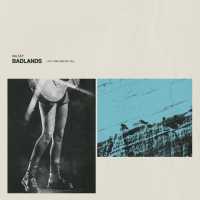 Playing:
Halsey - Tiny Little Babies - Talking Break (Live From Webster Hall)
[Halsey]
Oh man.

Hi.

You guys are so loud.

I'm glad I have this moment to talk to you because this whole thing is going by so fast I can't even like, process what's happening, um, this is my first headline show in the States in like, 8 months? And I was really nervous today, which is so weird 'cause I don't really get nervous anymore but today I was so nervous.

Um, it's really exciting to play the album for you guys this way because this is how I intended for it to be heard. And I did these shows because I wanted you guys — I wanted you guys to know how much you mean to me but, um, I also did them for myself because, (*laughs*) because for the past couple months I've, uh, put out a lot of singles, and some of them have changed my life forever.

I'm in the studio working on new music. I wanted, I wanted to remind myself that you guys are a group of people who love albums. You love stories, you love people, and all of us are here for the same reason, we're here because we are strong in the face of defeat, we're here because we're tiny little babies who cry about everything, we're here because we can feel it in our hearts and we turn to the person next to us and we see them smiling from the bottom of their fucking soul about the same thing that is making you happy in this very fucking moment.

And in a world where it is so dangerous to have empathy, in a time when it is so dangerous to feel bad, to feel pain, to feel hurt, because there is so much of it around us, all the time. When we look at the news, when we turn on the TV there's just pain fucking everywhere it's so hard to feel something.

But you guys remind me that it's okay that I do, because when I do it, we do it together, and that is why I'm here.

It feels so weird to be on this fuckin' stage. A good weird, um. Let's make it even weirder.