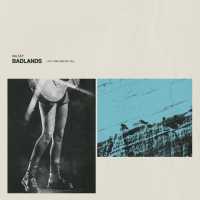 Playing:
Halsey - Some Kind Of Stardust - Talking Break (Live From Webster Hall)
[Halsey]

Uh, you guys are, you guys are batshit crazy.

So, I just wanna tell you guys something. I try really fucking hard, every day, to be the person that you guys believe that I am. And, it's not easy all the time. Sometimes I fuck it up, and I, I make mistakes.

But I want you to know before I leave you that, um, every single time that I'm on this stage all I can think is, I have absolutely no idea why you picked me.

And sometimes, I look at other musicians, I look at my peers, I look at my idols and I think to myself, wow, they are made of some kind of stardust that I am not madе of and never will be madе of.

But it's times like this when I get onstage in a baggy fuckin' Pearl Jam t-shirt ... I've got nothing but my band, and some lights, and I know I'm not hitting every fuckin' note, and I know that I'm running out of breath, and I know that I'm talking far too much... and you guys fucking cheer anyway. I fucking love you. Thank you.

You know what that means, right?